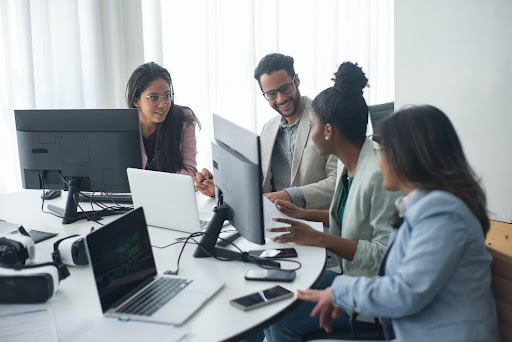 Your company spends significant time and monetary resources to recruit, hire, and train the best personnel. If you don't offer your workforce the best employee experience, you will lose them as they move on to greener pastures. In a poor work environment, your staff will have deflated attitudes that will negatively impact business areas such as company culture, production, and customer service. HR and IT can work together, contrary to popular belief.
To prevent negative impact, your HR department must work together with IT to create a great employee experience. Although the two departments primarily work in isolated silos, they absolutely can contribute areas of expertise that complement each other and can help improve your employee's experience. Here are few ways HR and IT can work together for the good of your employees.
HR and IT can work together for faster, smarter, and more meaningful onboarding
The first impression your organization creates has a significant impact on the overall employee experience. As such, you must create quality and highly personalized programs that your workers find easy to use.
Your IT team can join hands with HR to eliminate outdated approaches. For example, instead of having employees fill in multiple forms with the same information, IT can create an automated solution that alleviates the drudgery of paperwork.
Digital experience platforms
Digital platforms come in handy in enabling your team to connect, collaborate, and execute tasks that matter to your business.
For instance, your HR team is probably already using smartphone apps and online portals to provide different services. This includes job transfers, healthcare claim reviews, vacation leave plans, to mention a few.
Your IT department can join in and help to provide your workers with personalized and up-to-date information whenever they need it.
Leveraged data
Your technology team can help foster connections between your workers in the same way they help with customer relationships. For example, they can use data to identify employee behavior patterns and then design customized employee experiences.
Making such moves now will ensure your organization is well-equipped to use data to improve employee satisfaction. This happens naturally even as we transition towards hyper-contextualization of the employee experience.
Remote and flex work
If you are like most organizations, you are now hiring talent from all corners of the globe. Just because some of your workforce cannot come to your physical offices, it does not mean dthey can't be as productive as those who do. Your HR department must work to give all your team members a collaborative environment.
From the first day that a recruit is hired, they should have an easy time talking to recruiters, hiring managers, and everyone involved in the hiring process.
You must also keep in mind that the millennial workforce has been using smartphones throughout their adult lives. They expect collaboration and technology in their work environment. In fact, most millennials prefer to communicate through digital devices than have face-to-face conversations.
Your HR department needs to provide early proof that your workplace offers collaboration and technology to engage such employees. Only by doing so will hiring officials be successful in engaging candidates strategically.
Employee retention
You already know how important it is to retain top talent in your organization. However, retaining the best talent in your industry is not an easy job. Talented employees will always have options, and your competitors are working hard to pursue and lure them away.
You must therefore prioritize retention by using collaboration tools. Collaboration tools help to improve the employee experience by offering flexibility and fostering innovation in the workplace.
As we have mentioned before, millennial workers expect to use up-to-date technology in the office. They don't want to have their productivity hindered by suboptimal appliances.
Providing the right technology for your employees could mean the difference between retaining or losing your top talent. Your HR team should work closely with IT when choosing the tools to use in your organization to encourage faster, easier and more efficient collaboration.
Final word
One of the sure ways for your business to prosper is to give your employees the best experience possible. By bringing your HR and IT departments together, you will succeed in creating a next-generation work experience for all your workers and give them the job satisfaction that they crave and expect.
What's more, innovative partnerships with managed IT services can go a long way in ensuring more efficient and effective workforce management. At Fizen Technology, we offer a complete suite of services that have been carefully put together to help you receive the most out of your IT systems investment. Feel free to contact us today.